Prof. Ingrid Nappi-Choulet, Professor and holder of the Public and Private Policy Department Real Estate and Sustainable Development Chair at ESSEC, publishes her latest survey findings on how tomorrow's managers see their future workspaces.
How do students ideally see their future workspaces after graduating from business school, not only at a time where the building, having become a management tool, is increasingly considered as leverage for performance in the company, but also at a time where Greater Paris strives to redesign the tertiary geography of the Ile-de-France region?
In 2013, the first My Future Office survey carried out by the Real Estate and Sustainable Development Chair at ESSEC had – for the first time giving a voice to students and the younger generation – globally confirmed the dominant trend in desired workspaces; that is, the loss of interest in the traditional administrative and open space offices for a strong desire for co-working office spaces and telecommuting.
The new My Future Office survey, carried out in May and June 2016 among 400 students at ESSEC, has updated and expanded on the results determined three years ago [1]. Third spaces, working from home, Google-type offices, the decline in open spaces… The renewal of the survey three years after aims to outline a distinction between passing fashion and deeper trends in terms of workplaces and their design layout.
The dictatorship of the cool: now overthrown
Between 2013 and 2016, a marked consistency in opinion can be observed: students are still as many to state the importance workspaces take on in their choice of future employer, the latter counting for 36% of students questioned.For the rest, it would seem that a certain amount of impact from passing fashion, linked to the communication of "Google-type" offices, is today beginning to losing steam. Thus, the extreme inverse of the traditional office, that which can be coined the "Google office", is far from taking first place in voting patterns. Indeed, 31 % show some reservation about this office type whereas 12 % have a clearly negative view of these workspaces.
"Google offices seem to be all very nice at first, but on reflection they pull you towards not distinguishing between private and professional life and I have a deep conviction that it's asking for disaster. So what's applicable to Google isn't perhaps applicable to every company!"
If this reserve regarding what some criticize as "the dictatorship of the cool" deserves to be highlighted, the opposite extreme that the traditional office incarnates hardly makes students dream: only 13% of them show a preference. So, what type of organization of the workspace wins the votes? Woodland campuses – like those springing up in the inner suburbs of Paris – and the co-working workspaces – which have shown exponential growth in recent years – are far from featuring among the top votes (6 and 11% respectively). The workspace booth in natural surroundings, a model inevitably evoked by the future Apple campus in Cupertino planned for 2017, receives more votes (22 %) but nonetheless remains behind… a workspace that doesn't resemble an office (23 %)! At the same time, a great majority of students (87 %) demonstrate their attachment to the act of travelling to the office. Going to the office, yes, but only if it doesn't resemble an office – that's even better! Complicated, the GenerationY?
Third spaces versus the good old workplace office
When faced with this delicate equation, third spaces seem to impose themselves as the ideal solution: they enable a distinction between place of residence and workplace while breaking the traditional representation that is made of the office. In fact, the first impression we have is that of the voting result: 70 % of students imagine themselves working in a third space after leaving their studies. A more detailed analysis, however, invites us to relativize this data. Indeed, less than a third (29 %) maintains that they would like to work in such a space on a regular basis, against 51 % who see themselves as occasionally using such premises and for reasons easy to imagine: third spaces give the image of being noisy (it is true of co-working spaces let alone a café or a train station), creating distance between the employee and the headquarters, and thus limiting interaction with colleagues and collaborative work. Inversely, the increase in effectiveness features among the assets linked to third spaces: reduced levels of fatigue thanks to lesser time spent in travelling, mutual help and increased serendipity… However, this is not the image that is given to students: 64% of them thought they would be less effective in a third space than a traditional office.
"Data security problems, loss of bearings and so loss of time, impersonal, probably noisier."
As a consequence, the office as a static, physical place, always available and where you can come to work to still has a bright future. The idea of a generalization of hot-desking that marks the end of allocated work stations is still far from winning unanimity! Moreover, disposing of a personal workspace, decorated and organized as they see fit, remains important for 67 % of respondents.
"I like flexibility. But according to me having a dedicated workspace is still useful, a place where important documents are kept, an area for concentration and discussion."
The ideal office has green walls and roofs and is located in inner Paris
In terms of the preferred location of their place of work, the preeminence of inner Paris is overwhelming, voted by 60% of students. After Paris, it is abroad that receives most votes (21 %). However, not every region in the world attracts students: if 24 % mention the United Kingdom and 22 % the United States, no other country receives more than 10% of student votes.
The last major result of the survey concerns the relationship students have with green premises, whose presence in the widest sense is important for 83% of them. But especially, even a more original presence of vegetation carries off the majority of votes: 61 % grant importance to the presence of green walls and rooftops, and 60 % to the presence of individual green spaces to be maintained by the employee (vegetable garden, for example), even if these practices are far from being widespread.
These results are in line with those of our 2014 survey in which 63 % of students estimated that nature should be preserved on buildings. Green landscaping that isn't limited to only a few plants in the reception area now seems to be rooted in students' minds as a true factor of well-being at work.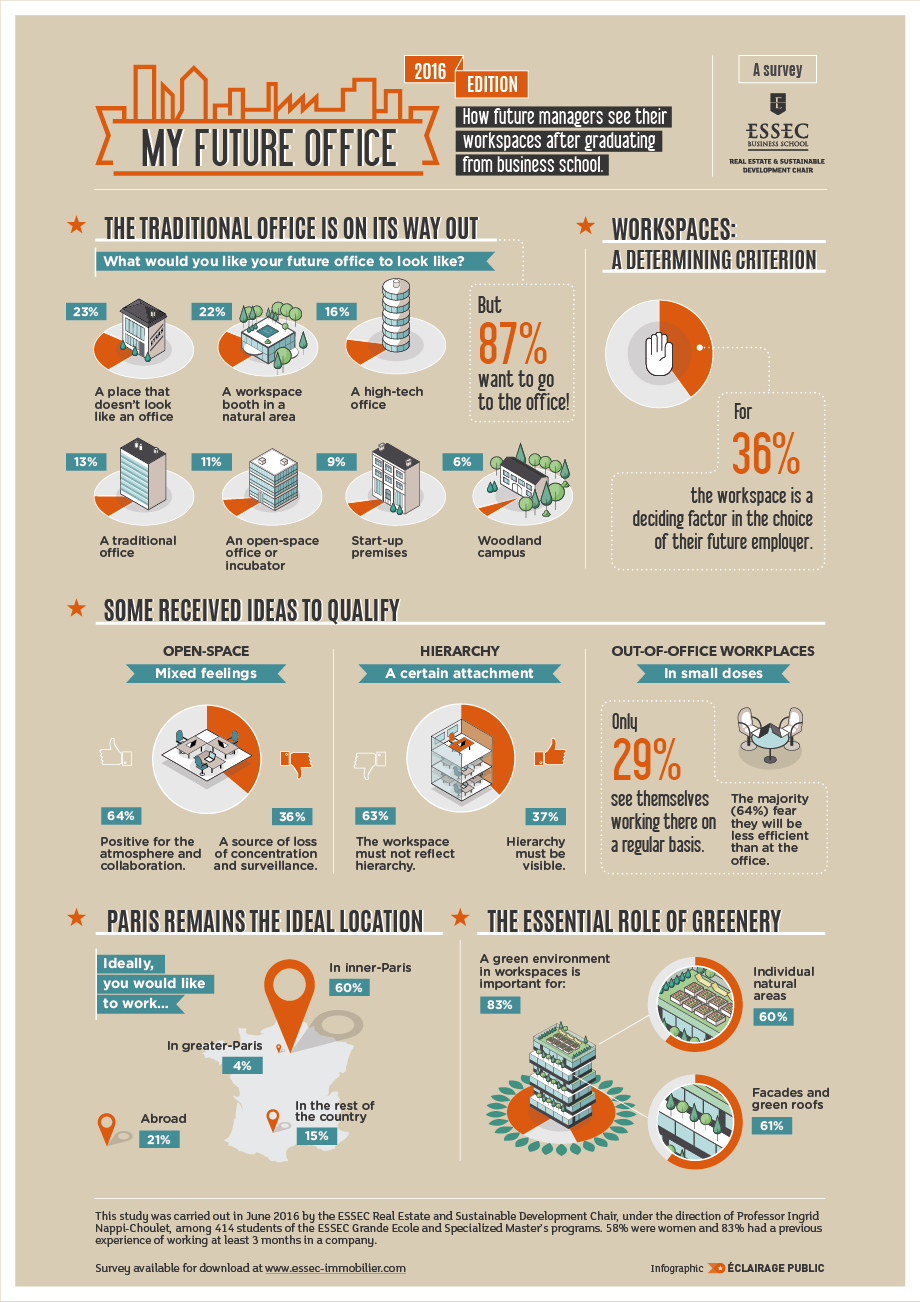 [1] 2013 Survey carried out among a panel of 414 students. Their average age is 22 years old and 47 % come from the Ile-de-France region. 83 % of them have already worked more than 3 months in an office building, and their responses are based on real-life experience. They are more numerous to have experienced working in an open space office (59 %) than a closed and shared office (37 %), whereas only a very small minority has experienced working in an individual, closed office (2 %). Two-thirds of them were employees in a large company (more than 250 employees).